Redwood Writers Meetings are held at the


Flamingo Conference Resort & Spa


2777 Fourth Street, Santa Rosa, CA 95405
Phone: (707) 545-8530
Arrive at 2 p.m. to register and mingle before the general meeting runs from 2:30-4:30 p.m.
We ask for a small fee of $5 from members and $10 from non-members to cover costs.
Arrive at 2 p.m. to register and network.
Author Support Group Meeting, 1-2 pm, Flamingo Hotel, Empire Room
Deborah Taylor French, Jeanne Jusaitis, Facilitators
Do you have a burning question about publishing? Want to know how to handle that plot twist? Wonder about other authors' writing processes? Or perhaps you'd just like some time to get to know a few other writers. Bring your questions and expertise both to the Author Support Group meeting from 1-2 p.m., prior to the main meeting in its same room at the Flamingo Hotel.
Author Support embodies the heart of Redwood Writers Club, "writers helping writers"—in an intimate setting.  Click here for flier.
Sunday, January 13, 2019
2 – 4:30 p.m.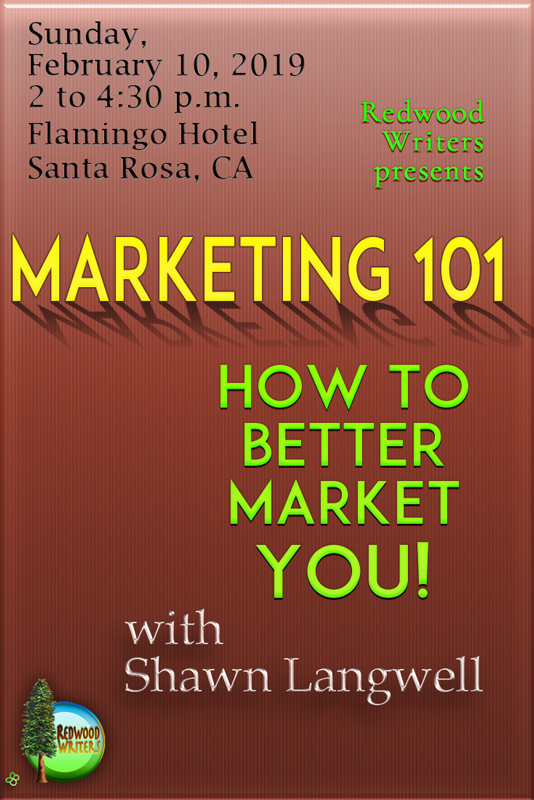 Marketing 101: How to Better Market You! 
with
Shawn Langwell
Do you struggle with Marketing? Would you rather everyone just buy your books? Marketing requires effort and getting out of your comfort zone. Join Redwood Writers on February 10, 2019, for an entertaining and practical afternoon when Shawn Langwell offers tips on "How to Better Market YOU!"
1. Passion- Know your why.
2. Know your strengths, weaknesses and opportunities with respect to writing, marketing and publishing.
a) What do you like?
b) What are you good at?
c) Where do you need professional help?
3. Know your audience.
a) who do you want to reach?
b) what do you want to say to them?
c) what do you want them to, think, feel, do?
4. Practice - 3 practical tips for building your brand.
5. Elevator pitch.
Shawn Langwell has 27 years of sales, marketing and advertising experience in the publishing industry. He has consulted with hundreds of clients to better assist them with their marketing and advertising needs and is a member of Toastmasters Of Petaluma. He has a Bachelor of Science Degree from San Francisco State University and has earned Leadership Certificates from Dominican University and the San Rafael Chamber of Commerce. In November 2016, Shawn published his first book, Beyond Recovery, A Journey of Grace, Love, and Forgiveness. When he's not working or writing, he can be found hiking the west Marin coast. He lives in Petaluma with his wife, Crissi, and three adult children.
MORE SPEAKERS IN THE MONTHS AHEAD

March 10, 2019

Emotion Crafting: What It Is, and Why It Should Be The Focus for Every Writer
Nora Profit

April 14, 2019

Facebook: Tips for Writers
Jula Pereiri

May 19, 2019

The Craft of Writing
Amanda McTigue