AVAILABLE NOW!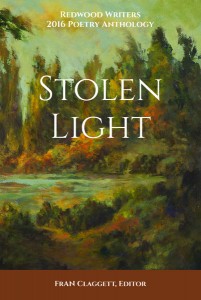 Get your copy of the Redwood Writers 2016 poetry anthology, Stolen Light, ($12) at a membership meeting, online at Amazon, or at one of these featured readings:
May 7
10:15 a.m.
Take the Mic, Central Library, Santa Rosa
May 15
2:30 p.m.
Redwood Writers meeting, Flamingo Resort
June 25
2 p.m.
Open Mic Gaia's Garden, Santa Rosa
---
As you may have read in the June 2015 newsletter, Anthology Editor Fran Claggett and her team of editors have begun the process of creating the next poetry anthology for the Redwood Writers.
Stolen Light is the title of the 2016 poetry anthology. "Your poems are the lights that you will have fashioned into small works of art," according to Claggett.
The deadline for submissions is September 15, 2015. After reviewing the submission requirements, member workshop information and more details, please submit your poems online by using a form at the bottom of this page.
---
---
Poetry Workshop*
The editing team will be holding a Poetry Workshop for Redwood Writers members during which poets can ask questions and receive writing tips. (Click here for membership information.) Here's more information:
*PLEASE NOTE: Attending the workshop is NOT a requirement for submitting to the 2016 Poetry Anthology, nor will members' attendance impact writers' chances of their poems being chosen to be included in the anthology.
---
Please observe the following contest rules; otherwise, your entry may be disqualified.
DO NOT place your name or contact information anywhere on your poem submission. This is a blind judging.
Each poet may submit up to 3 poems.
All poems must be submitted through the Redwood Writers website using the form posted below.
Please include a 50-word biography at the time of submission.
Only previously unpublished poems will be accepted.
Each poem may have up to 50 lines.
All poems must be submitted by 9 p.m. on Sept. 15, 2015 for consideration.
Questions should be sent to [email protected]
---

---
---
---
---
---