Don't miss any Redwood Writers meetings
Visit the Meetings page for the latest updates on upcoming meetings,
and all the wonderful speakers and events.
Sunday, January 13, 2019
Pitch Yourself as a Guest on Radio or TV

Joey Garcia
Want to learn simple yet effective methods of being an on-air TV or Radio guest who creates a buzz that inspires media to invite you back again and again? The word "author" is rooted in "authority." If you've published an article, essay, or book—congratulations! You are now an expert. Television and radio shows need experts to interview. But writers who land an on-air segment often struggle to make the most of their 3 – 8 minutes. Juicy talking points are key. Garcia will teach you how to build a following; proven methods that work equally well for all writers, including fiction, nonfiction, memoir, and poetry.
Joey Garcia created opportunities through her book tour, including new gigs as a Relationship Expert for a network television station and as an iHeart Media talk show host. She is also a Pushcart-nominated poet and newspaper advice columnist. Born in Belize, Joey is the founder of the Belize Writers' Conference where writers vacation with literary agents while learning to become "authorpreneurs."
Book: When Your Heart Breaks, It's Opening to Love: Healing and finding love after an affair, heartbreak or divorce. www.joeygarcia.com/events
Sunday, February 10, 2019
Marketing 101: How to Better Market You

Shawn Langwell
Do you struggle with Marketing? Would you rather everyone just buy your books? Marketing requires effort and getting out of your comfort zone. Join Redwood Writers on February 10, 2019, for an entertaining and practical afternoon when Shawn Langwell offers tips on: How to Better Market YOU!
Shawn Langwell has 27 years of sales, marketing and advertising experience in the publishing industry. He has consulted with hundreds of clients to better assist them with their marketing and advertising needs and is a member of Toastmasters Of Petaluma. He has a Bachelor of Science Degree from San Francisco State University and has earned Leadership Certificates from Dominican University and the San Rafael Chamber of Commerce. In November 2016, Shawn published his first book, Beyond Recovery, A Journey of Grace, Love, and Forgiveness. When he's not working or writing, he can be found hiking the west Marin coast. He lives in Petaluma with his wife, Crissi, and three adult children.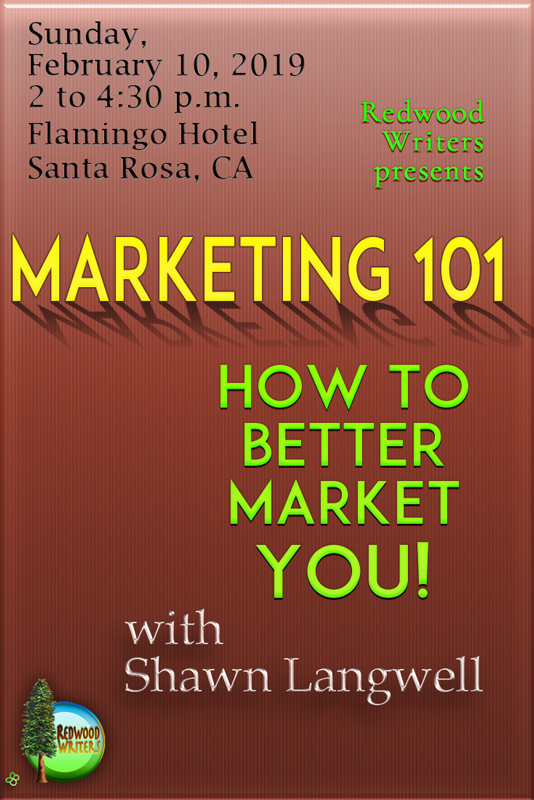 Sunday, March 10, 2019
Emotion Crafting: What it is and why it should it be the "focus" for every writer.

Nora Profit
Amateur writers are often unaware that regardless of how well a manuscript is written, if it doesn't impact the reader emotionally, it is all for naught. Description doesn't provide emotional content, neither does it express necessarily what a character is feeling. This lecture delivers the much needed and often neglected information about how emotional impact is achieved. Readers become emotionally involved in a story only when the techniques revealed in this lecture are employed.
Nora Profit, founder of Northern California's only creative writing school, The Writing Loft, is an award-winning journalist, writer, editor, and author. She is a featured author in "Chicken Soup for the Writer's Soul" and "Chicken Soup: Living Your Dreams." Her own books include 10 Glaring Mistakes Amateur Writers Make and How to Avoid Them, The Ultimate Novel Writing Workbook, and numerous booklets on the craft of writing. Nora graduated with honors from San Jose State University with a degree in Journalism and has had more than 400 articles in regional and national publications. Nora's school, The Writing Loft, is dedicated to delivering instruction that takes writers past mere theory to what really works.