Sunday, January 13, 2019
Pitch Yourself as a Guest on Radio or TV

Joey Garcia
Want to learn simple yet effective methods of being an on-air TV or Radio guest who creates a buzz that inspires media to invite you back again and again? The word "author" is rooted in "authority." If you've published an article, essay, or book—congratulations! You are now an expert. Television and radio shows need experts to interview. But writers who land an on-air segment often struggle to make the most of their 3 – 8 minutes. Juicy talking points are key. Garcia will teach you how to build a following; proven methods that work equally well for all writers, including fiction, nonfiction, memoir, and poetry.
Joey Garcia created opportunities through her book tour, including new gigs as a Relationship Expert for a network television station and as an iHeart Media talk show host. She is also a Pushcart-nominated poet and newspaper advice columnist. Born in Belize, Joey is the founder of the Belize Writers' Conference where writers vacation with literary agents while learning to become "authorpreneurs."
Book: When Your Heart Breaks, It's Opening to Love: Healing and finding love after an affair, heartbreak or divorce. www.joeygarcia.com/events
Sunday, February 10, 2019
Marketing 101: How to Better Market You

Shawn Langwell
Do you struggle with Marketing? Would you rather everyone just buy your books? Marketing requires effort and getting out of your comfort zone. Join Redwood Writers on February 10, 2019, for an entertaining and practical afternoon when Shawn Langwell offers tips on: How to Better Market YOU!
Shawn Langwell has 27 years of sales, marketing and advertising experience in the publishing industry. He has consulted with hundreds of clients to better assist them with their marketing and advertising needs and is a member of Toastmasters Of Petaluma. He has a Bachelor of Science Degree from San Francisco State University and has earned Leadership Certificates from Dominican University and the San Rafael Chamber of Commerce. In November 2016, Shawn published his first book, Beyond Recovery, A Journey of Grace, Love, and Forgiveness. When he's not working or writing, he can be found hiking the west Marin coast. He lives in Petaluma with his wife, Crissi, and three adult children.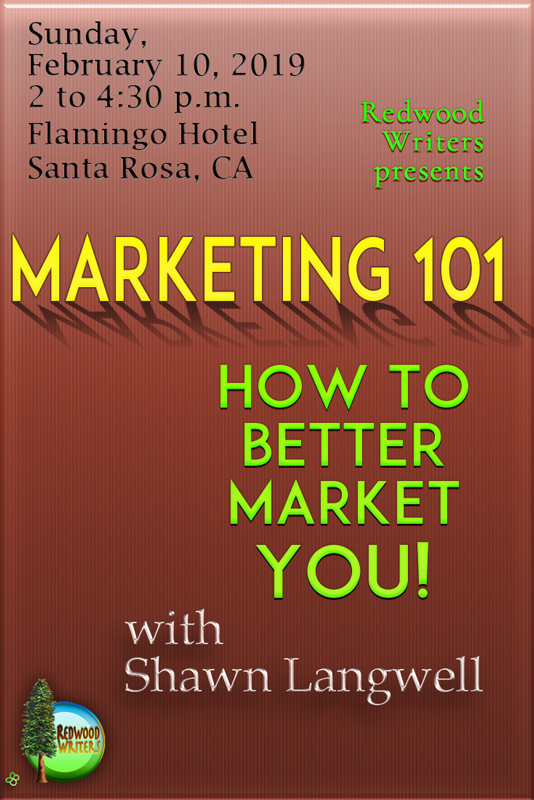 Sunday, March 10, 2019
Emotion Crafting: What it is and why it should it be the "focus" for every writer.

Nora Profit
Amateur writers are often unaware that regardless of how well a manuscript is written, if it doesn't impact the reader emotionally, it is all for naught. Description doesn't provide emotional content, neither does it express necessarily what a character is feeling. This lecture delivers the much needed and often neglected information about how emotional impact is achieved. Readers become emotionally involved in a story only when the techniques revealed in this lecture are employed.
Nora Profit, founder of Northern California's only creative writing school, The Writing Loft, is an award-winning journalist, writer, editor, and author. She is a featured author in "Chicken Soup for the Writer's Soul" and "Chicken Soup: Living Your Dreams." Her own books include 10 Glaring Mistakes Amateur Writers Make and How to Avoid Them, The Ultimate Novel Writing Workbook, and numerous booklets on the craft of writing. Nora graduated with honors from San Jose State University with a degree in Journalism and has had more than 400 articles in regional and national publications. Nora's school, The Writing Loft, is dedicated to delivering instruction that takes writers past mere theory to what really works.
Sunday, April 14, 2019
Working with an Illustrator—Your Other Half

Sandy Baker
Even though you wrote a good book, an illustrator can make or break it. Good chemistry and the right price and style equal a potential winner. Sandy Baker, an author and sometimes illustrator, will provide examples of various media and styles of illustrations, discuss how to find the right illustrator, give an example of a simple contract, discuss cost, and show how to work with that artist. This is a basic how-to on finding and working with an illustrator.
Actionable Takeaways:
 Finding the right illustrator for your book.
 Deciding the right medium and style for the illustrations.
 Determining budget, contract, and deadlines.
 Giving your illustrator artistic license
Sandy Baker writes, reads, gardens, and crafts. Her 17 years in the Sonoma County Master Gardener program inspired her eight children's gardening books; they are nonfiction with characters and a plot. Since graduating from Penn State with a bachelor's in English, she was a technical writer and editor; newspaper reporter; proposal and speech writer; country music song writer; university development director; and now, author of eleven children's books and a thriller. Sandy illustrated two of the children's books plus a coloring book for grownups. Her twelfth book, George Washington's Kid Spy for middle grade will be released in June. She has been a member of Redwood Writers since 2009 and was its president 2015-2017.
Sunday, May 19, 2019
Character Through Action / Character As Action: What Actors and Directors Can Teach Writers

Amanda McTigue
Characters—with character—are why we read. They keep us turning pages. They live with us after that last page is turned. Even in formulaic genres, or works that have no characters (for example, some poetry, the avant garde, even how-to manuals), readers hope for character through voice and point of view.
This is a craft talk. We will supplement received literary wisdom with some of the approaches actors and directors take to the development of character. We'll shift our focus on the page from biography to improvisation, analysis to discovery, creating imagined circumstances through which character may be revealed.
Amanda McTigue has spent her life cross-pollinating between her works on the page and for the stage. Her debut novel, Going to Solace, was named Best Read of 2012 by public radio KRCB's "Word by Word." Since then, her published short stories have earned her a Pushcart Prize nomination, and a semi-finalist nod from the American Literary Review Fiction Contest. Amanda's written works for the stage have been produced at Carnegie Hall, the Minnesota Opera, and Sonoma County's Green Music Center. Visit her website at amandamctigue.com
Sunday, June 9, 2019
The Author's Checklist: An Agent's Guide To Editing Your Manuscript (To Find An Agent)

Elizabeth Kracht
Most manuscript submissions are four drafts from being ready for an agent. Time and volume prevent agents from giving authors the feedback they need to bridge the divide to agent-ready work. Literary agent Elizabeth Kracht will offer editing tips to help authors eliminate common problems in their manuscripts and attract agents.
Elizabeth Kracht joined Kimberley Cameron & Associates in the fall of 2010. She represents both literary and commercial fiction as well as nonfiction, and brings to the agency experience as a former acquisitions editor, freelance publicist and writer. In fiction, she represents literary, commercial, women's, historical, thrillers, and mysteries. In nonfiction, she is interested in finding narrative/creative nonfiction, voice- or adventure-driven memoir, spirituality, sexuality, self-help, true crime, investigative journalism, and pet stories.
Sunday, July 14, 2019
Author Launch
Chair: Jeane Slone
Celebrate the success of Bay Area authors at the annual Redwood Writers Author Launch event. Listen to excerpts from new books published by our members since last July, meet local authors and pick up signed copies of their books.
Visit the Author Launch Lineup page to read about the authors and their books.
CLICK ON A BOOK COVER to read about that book and its author being featured at the 2019 Author Launch on July 14:
Sunday, Aug. 11, 2019
Free Writes: How to Deep Dive Into Writing

Marlene Cullen
Freewrites are a way of writing freely, letting words tumble and fall however they land, with no worries about the outcome.
In this workshop, we'll play with freewrites as a way to inspire your writing no matter the genre. You can write about personal experiences, or write about what happened to someone else. If you are a fiction writer, respond to the freewriting prompt the way your fictional character would respond.
See what ideas burst out during this unique writing exploration. Join us and have some word fun!
Marlene Cullen is enthusiastic about encouraging people to write, even those who think they can't write. Her series of books, The Write Spot anthologies, features writing that entertains as well as inspires writing. Every story, vignette, and poem in The Write Spot books include writing prompts motivating readers to become writers.
Marlene hosts The Write Spot Blog, a treasure chest of inspirational gems for writers. Fulfilling her passion for writing and sharing with others, Marlene has created unique writing environments such as Jumpstart Writing Workshops, where participants often experience transformational changes. Her workshops provide essential elements for successful writing.
Sunday, September 8, 2019
Writing Outside the Box

Linda Loveland Reid
Do you ever skip a paragraph because you already know what it says? The results of writing can be crazy weird, amen-astonishing, way captivating, or dull. There are many means to keep authors away from cliché writing habits:
• How do you produce tread-on-coals stimulating character introductions?
• Write interesting descriptive environments?
• Create amazing dialogue?
• How do you identify and crush "crutch" words?
We want to compel readers to hang on every kick-starter-spirited sentence. It's easy once you know where the sink-holes await.
Linda Loveland Reid is the author of two novels. Her stories, memoirs, essays, and poems are published in over a dozen anthologies and magazines. She is a graduate of Sonoma State University, and she currently lectures on art history for SSU and Dominican Universities in the Osher Lifelong Learning program.
In the 1970s, Linda was Associate Executive Director of United Way for the North Bay. She later founded an insurance firm in Santa Rosa specializing in employee benefits. Now retired, Linda's children and grandchildren run the shop. Other activities include figurative oil painting and directing community theater in Sonoma and Marin Counties. This September she will direct Dylan Thomas's "Under Milk Wood."
Linda is past president of Redwood Writers and recipient of the prestigious Jack London Award.